Geno Smith has been sacked and hasn't even played a down of NFL football. Smith is
Geno Smith

the latest, college-to-the-pros, black quarterback to face nasty rumors and innuendo about his character. Both Cam Newton and RG III, Robert Griffin III, got the same treatment just before the draft. Once is an aberration. Twice is aggravating.
Nolan Nawrocki

The third time is a pattern.
Nolan Nawrocki is part of the pattern and part of the problem. What has been written and said about these men isn't just mean and nasty, its racist. And in the cases of RG II and Newton, what Nawrocki has written has been proven untrue.
Nawrocki writes for Pro Football Weekly. In April, just days before the NFL draft, Nawrocki trashed, Smith, the former West Virginia quarterback. Nawrocki's evaluation of Smith reads, in part:
Smith
"

Mild practice demeanor..."Not a student of the game, marginal work ethic...Nonchalant field presence...did not show an understanding of concepts on the white board."
Smith isn't some scrub. In four years with the Mountaineers, he threw for more than 11,000 yards, 98 touchdown passes and had a QB rating of 153.5. One wonders how anyone with those numbers could get away with not working hard or being smart. The numbers speak for themselves. So when Nawrocki heard this crap about Smith (he's admittedly never met the man) a huge red flag should have been raised in Nawrocki's mind.
Cam Newton
Three years ago, in the 2010 draft, Nawrocki went even further in his critique of Cam Newton. And by that I mean, he gave assessments of the man that had nothing to do with football.
"

Very disingenuous — has a fake smile, comes off as very scripted and has a selfish, me-first makeup. Always knows where the cameras are and plays to them. Has an enormous ego with a sense of entitlement that
continually invites trouble and makes him believe he is above the law..."
"

Only a one-year producer. Lacks accountability, focus and trustworthiness — is not punctual, seeks shortcuts and sets a bad example. Immature and has had issues with authority. Not dependable."
By saying Newton is "not punctual," Nawrocki is simply saying Newton is on CP time.
Nawrocki didn't accuse any other QB of being, "not punctual," but using this phrase to describe a black man's on time record, particularly along with all the other stereotypes Nawrocki uses, is going to enable prejudice.
After evaluating Nawrocki's evaluations of all QB's he evaluated for Pro Football Weekly in the 2012 draft, I've concluded Nawrocki used stereotypes of black QB's to handicap their talents. Here's a look at his racial tainted judgments.
Jacory Harris
Coasted on natural talent and is a developmental project who could struggle adapting to the speed and complexity of the NFL game.
Shoddy judgment. Does not exhibit a commanding on -field temperament.
Dominique Davis
could require patience adapting to a sophisticated playbook. Character and coachability need to be looked into.
Immature and mentally weak. character is a concern.
Shaky decision maker — Character needs to be investigated.
In everyone of these first five examples, every QB has either, questionable maturity,
judgment, character, or ability to think at a level required of an NFL QB. Jacoby Harris "coasted on natural talent." Where have we heard before that a black athlete is naturally gifted but doesn't work hard?
Russell Wilson
Versatile player who could even be sprinkled into the game plan on a weekly basis to take advantage of his dual-threat ability. Is the type of player you root for and want on your roster.
Wilson led his team, the Seattle Seahawks, to the NFC championship game, but Nawrocki thought Wilson would be best used, "sprinkled into a game plan..." That's a really bad call. How could Nawrocki have been so wrong?
Nawrocki also said this about Wilson, "mature, grounded, motivated athlete with a professional makeup and work ethic. Quickly assimilated and earned the respect of his new teammates.
But shouldn't be hard to compliment someone who threw for 11,470 yards, had a 60.9% completion percentage and a QB rating of 147.2 while playing for North Carolina State and Wisconsin.
Robert Griffin III
Before last year's draft it was RG III who got sucker punched. Milwaukee Journal-Sentinal writer Bob McGinn quoted several unnamed NFL scouts about RG III.
Most were positive but the last one was extremely negative. "This guy, the only way he gets big plays with his feet is if he's got a wide-open field and the sea opens for him. He's got a little bit of a selfish streak, too. Everybody was laying on Cam,(Newton) but for some reason this guy has become gloves off. He doesn't treat anybody good." Another scout also questioned the way Griffin deals with people."
Griffin was taken by the Washington franchise as expected, but we'll never know if Griffin, and Newton spent their first year doing something no other white QB had to even think about; over compensating, spending extra time and energy, proving they do treat "people good," in addition to playing in the NFL.
And as complimentary as he was about Wilson, Nawrocki never once said he was smart, or intelligent. In fact, Nawrocki only said that about two of the eight black QB's in the 2012 draft.
RG III and DeAndre Presley of Appalachian State were the only black quarterbacks Nawrocki gave credit to for being smart.
Nawrocki uses a different set of words (rules) when evaluating white QB's.
Kirk Cousins of Michigan State, "Can be too cerebral..."
Nawrocki questioned the character of two white QB's. But both are practically gangbangers. Nawrocki said Patrick Witt of Yale, "Has two minor arrests and sexual-assault accusation and character need to be evaluated carefully."
And Stephen Garcia of South Carolina: Immature and irresponsible. Marginal football character, poor work ethic and practice habits. Carries himself like a high school big man on campus and is only interested in game days. Has a history of alcohol, drug and behavior
incidents, and stability needs
to be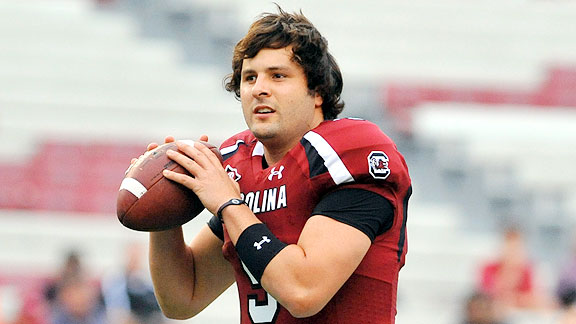 Stephen Garcia
scrutinized.
One guy has been arrested, twice, and has been accused of sexual-assault! The other guy has a history of drug and behavior incidents. That's what it took for Nawrocki to cast a leary eye on a white QB, drug use, two arrests and an allegation of sexual-assault.
In his evaluation of QB's in the 2012 draft, Nawrocki only questioned the maturity, judgment, or character, of a white QB if they practically had a criminal record. He doesn't call any white QB, "mentally weak. Nawrocki does not suggest that any white QB might be unable to adapt to, "a sophisticated playbook."
Plus imagine if Witt would have had the same kind of year, at the same kind of school, that Wilson did.
In the end for Nawrocki, there was always a spot on the roster for a white QB coming out of the 2012 draft.
1. Ryan Tannehill is a strong candidate to be overdrafted and forced into action earlier than he should be.
2. Brandon Weeden Oklahoma State Has the arm talent to function in a vertical offense with a strong protection scheme and supporting cast but is most ideally suited for a backup role.
Andrew Luck
Is one of the safest, surefire QB selections in draft history with few discernible blemishes
4. Kirk Cousins Michigan State Could thrive with crisp coaching and confidence-building play-calling in a precision passing game
5. Case Keenum Houston only chance to stick will be as a dink-and-dunk emergency QB.
6. Nick Foles Arizona might always be content with a backup role.
7. John Brantley Florida-has enough arm talent and toughness to warrant consideration as a developmental backup.
8. B.J. Coleman Chattanoga-Tenn Has ideal backup traits and tools to develop that are most ideal for a vertical attack.
9. Austin Davis- So. Miss Has the type of makeup to will his way into a lineup and vastly outplay his draft status in 5-7 years.
10. Steven Garcia South Carolina Best chance to succeed will be in a high-percentage, rhythm passing game under a demanding positional coach
11. Tyler Hansen Colorado Has ideal makeup to hold a clipboard
12. Chandler Harnish Northern Illinois university has upside to be groomed as a smart, athletic, quick-armed backup in a short, rhythm-timing offense.
13. G.J. Kinne Tulsa Has a gunslinger's mentality, and you always will have to live with mistakes that accompany the plays he makes. Ceiling is a No. 2.
14. Ryan Lindley San Diego State is too inconsistent, inaccurate and heavy-footed to be more than a clipboard holder.
Kellen Moore
15. Kellen Moore Boise State he possesses ideal backup QB makeup to function competently with minimal reps in a precision-matchup offense
16. Brock Osweiler-Arizona State he possesses the movement skill and arm talent to emerge as an eventual starter
17. Dan Persa Northwestern has outstanding intangibles and make-it qualities
18. Patrick Witt-Yale Has the mental acuity to compete for a No. 3 job.
Nawrocki believed Patrick Witt deserved to be drafted, but not Cam Newton. But because he knows someone will take Newton, Nawrocki can't leave him out without embarrassing himself, so Nawrocki claimed that Newton was only a top 50 draft prospect. Look, I'm not mind reader. But it seems clear that Nawrocki used racial stereotypes to describe/evaluate black QB's in the 2012 draft. Even if you don't see that, you have to admit he used different words and a more positive tone with the white QB's. Nawrocki only sees fit to praise the black QB's in the 2012 NFL draft if they are RG III, or Wilson. In other words, if they were practically supermen.
I've singled out Nawrocki, for now, but this kind of bias is on blast in the sports media, and its something you should look for and speak out against.